If you think "waking and baking" is a good thing, fear not. Sunnyside Dispensary also believes in the same thing. This is a store that is dedicated to supplying the best cannabis-related products to customers. Previously known as Cultivate, it was rebranded to its current name after being bought by Cresco.
To make scoring pot easier for you, learn more about this brand by reading this post till the end.
Sunnyside Dispensary Products
Sunnyside Dispensary Chicago sells various cannabis products in their stores. All of these products can be categorized under various product types. Here's a quick rundown of all of them.
1. Vapes
Quitting smoking has been one of the toughest things to do for millions of people all over the world. However, technology has advanced enough to help us quit smoking without actually quitting smoking. Vaping is one of the best alternatives to smoking tobacco. If you want the best vape in town (that also includes the ones that make you high), visit Sunnyside Dispensary!
You will get vapes from various brands like:
Cresco
Good News
High Supply
Aeriz
Aerox
93 Boyz
Beboe
Daze Off
Ozone
Rhythm
Select
Seed & Strain
2. Flowers
If you want some green flowers, you know how to get them now. This controversial flower has become one of the largest industries in the USA right now. It's also rightfully since these flowers are harmless and a pretty healthy alternative to other psychoactive substances.
Some brands of flowers available at Sunnyside Dispensary are:
Cresco
High Supply
Bedford Grow
Aeriz
93 Boyz
Classix
Fig Farms
Daze Off
Good Green
Grassroots
Matter
Nature's Grace
3. Edibles
Not all lungs are built the same, my friend. Some people prefer eating flowers compared to smoking them. For our hungry friends, Sunnyside Dispensary has a large assortment of edibles for you to munch and chew on.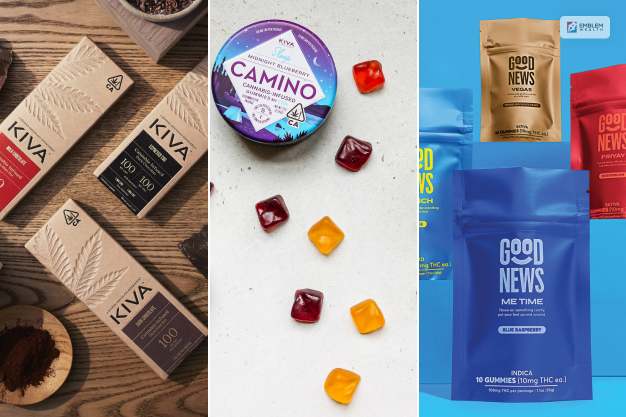 Some edible brands available in stores are:
Camino
Good News
Kiva
Lost Farm
Mindy's
Wonder
Encore
Incredibles
Ozone
Wana
4. Prerolls
Stoners are often called some of the happiest and laziest people in the world. While it may be debatable before a joint is lit up, it's absolutely true afterward. However, if you are lazy even before lighting one up, then Sunnyside Dispensary Rockford has some prerolled for you!
Some prerolled brands are:
93 Boyz
Dogwalkers
Edie Parker
Fig Farms
Funky Monkey
Innocent
Lowell Farms
Miss Grass
Nature's Grace
Ozone
Seed & Strain
5. Concentrates
If you want the right oil for your medication, then Sunnyside Dispensary South Beloit has got you covered. Coming in various forms like oils, waxes, sugar cubes, sand, resins, and more, you will definitely find what you are looking for here.
You can get concentrates of various brands like:
Cresco
High Supply
Rhythm
Nature's Grace
Grassroots
Bedford Grow
Avexia
Ozone
Nuera
PTS
Amber
6. Topicals
Sometimes, applying the right balm on your skin can give you the relief you want. Known as Topicals, these pot balms are perfect for relieving pain and inflammation. However, they won't make you high. Pot is not only used for recreational purposes, you know?
Some brands of Topicals that are available at Sunnyside Dispensary are:
Avexia
Dr. Solomon's
Nature's Grace
7. Capsules
If you are on pills, you might want to take some healthier ones instead. Pot pills are becoming popular since they give you a gradual high instead of an instant hit. Just pop one in and wait for some time to feel time getting slower as you transcend into euphoria.
Some brands of pills available in this store are:
8. Tinctures
Sometimes, a drop or two is all it takes. These special high-inducing concoctions can be had with water or with tea and juices as well. Available in small 30ml bottles, they are cheap and make you feel relaxed after some time.
Some brands of Tinctures are:
Remedi
Avexia
Dr. Solomon's
9. Beverages
These beverages are similar to edibles. The only difference is that they are in liquid form and made with Sativa strains. However, you will only get one brand of such beverages at a Sunnyside Dispensary near me – Spring Lake Cherry Limeade Syrup.
10. Accessories
If you are a stoner, then be proud to be one. It's cool to be happy and drowsy at all times and not be ostracized about it. Some pot-related accessories of multiple brands available in Sunnyside Dispensary are:
Joint Holders
Bandana
Auto Rollers
Graphic T-Shirts
Hoodies
Water Bottles
Pipes
Bongs
Grinders
Air Filters
"High" Caps
Sunnyside Dispensary Collections
You can get some special recommendations at Sunnyside Dispensary to make scoring easier for you. They are categorized as follows:
Staff Picks
New Arrivals
Best For Beginners
Holiday Collection
Best Sellers
Sunnyside Dispensary Reviews
To get a better understanding of how good Sunnyside Dispensary products are, I searched for genuine customer reviews. Have a look at what some of the customers had to say about this store.
Here's a positive 5-star review by Larry Golden:
Here's a positive 4-star review by Oliver Skinner:
Frequently Asked Questions (FAQs):
Stoners and vapers have asked many questions regarding Sunnyside Dispensary. Their answers are as follows:
Q1. Do You Need A Medical Card For Sunnyside Dispensary?
No, you don't need a medical card to buy products from Sunnyside Dispensary. This is because of the laws of Illinois – HB 1443 – that was signed by the Governor on 15th July 2021.
Q2. Why Did Cultivate Become Sunnyside?
Sunnyside Dispensary was previously known as Cultivate. However, Cresco Labs bought Cultivate in 2021. This acquisition a reported being around $158 million. 
Q3. How Much Does The Sunnyside App Cost?
You can be a member of this dispensary and be held in "high" regard. However, you need to use their app and pay $9 every month.
Q4. Who Owns Cresco?

Charles Bachtell is the owner of Cresco. He is also a member of the Cannabis Legalization Subcommittee of the government.
Final Verdict: Is Sunnyside Dispensary Legit?
Sunnyside Dispensary is a legit place for stoners to visit and score pot from. With various products on their shelves, you can also visit their website if you are already couch-locked.
They have various categories of products like flowers (buds), vapes, edibles, concentrates, beverages, prerolls, and more. Visit one of their stores and tell me in the comments what you bought from there!
Read Also: